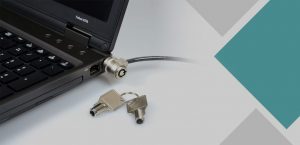 Protecting one's assets has become quite a task. It seems device theft is always on the rise and if you want to keep your valuables safe, you need to be on the alert at all times. The Kensington cable lock makes it easy to keep your laptop safe and secure! It is safe to say that Kensington is the preferred brand when it comes to computer security. In fact, according to Kensington (and we believe them!), they have sold so many cable locks that if they linked them all, they would circle the globe, twice!
There is more to securing your device than just avoiding the cost of replacement if it is stolen. Computer security is also about ensuring that your personal information is not accessed by unscrupulous criminals. While replacing a computer or device can cost you a pretty penny or two, identity theft and fraud can often cost a great deal more.
Part of the Kensington cable lock range includes a keyed cable lock and a combination code cable lock. Regardless of which one you opt for, you can expect to receive a security product that is easy to use and offers an exceptional first line of defence. What sets the original Kensington cable locks apart from imitation locks or "similar" cable locks is that they are designed to present a powerful defence. For starters, they are made from aircraft grade steel and each cable lock goes through rigorous tests to ensure that they don't just meet industry standards, but actually exceed them.
The Kensington cable lock range is suitable for use on tablets, laptops, Ultrabooks, convertible and 2-in-1 laptops, Chromebooks, netbooks and even desktop PCs.
At Legion Computer Accessories, we feature a range of original Kensington cable locks. We do not stock "Kensington compatible" locks as we believe that only the best will do. Always ensure that you are quoted for an original cable lock from the Kensington range and not a knock-off.
Since 1998, we have been supplying the market with a range of top-quality computer security products. We sell directly to the end user and other suppliers, and offer a comprehensive warranty on absolutely every product on our shelves. For your peace of mind and convenience, we also provide a "no questions asked" replacement service, so if you are unhappy with the product or the quality thereof, we will replace it. At Legion Computer Accessories, we endeavour to not just stop thieves in their tracks, but to deter them completely.
For more information and advice on our range of Kensington cable locks, contact us via email or telephone today.