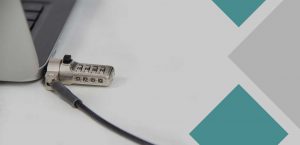 The large, bulky forms of desktop computers are becoming more and more scarce. In this modern world, where most people use their computers on the move, it is becoming very obvious that the new generation of laptops is here to take over the world of the bulky personal computer. Because desktop computers are so heavy and large, and consist of a variety of components, they have been very hard to just carry off in a blink.
Laptops, however, are a different story. They are purpose built to be light and easy to move, and as a result, the theft of laptops has increased dramatically. Employees find themselves taking a quick bathroom break, only to return to find their laptops missing, and individuals at home are also at constant risk of having their laptops removed or stolen. The issue here is not only that the valuable hardware and software are gone, but the information that the computer contains can be worth far more than the actual financial cost of replacing the laptop and all its software. Losing information can be very damaging to a person or organisation. This is why a secure lock and a good laptop lock cable are crucial security elements.
Laptop locks with a good cable can make a huge difference. While no lock is resistant to everything, securing your laptop to your desk on a good anchor point with a solid lock cable will certainly help your laptop to remain in place when you have to walk away from it. The lock and the cable are usually very difficult to disarm, break or cut, and the mere look of a well-anchored, locked laptop is enough to deter opportunistic thieves. This means that your hardware, your software and your information are safe!
You may be asking yourself whether one lock will fit all laptops. Usually, most laptops are fitted with the standard Kensington lock, and this broadens your choices when it comes to your lock cable. Retail operations generally sell these, but if your laptop lock is different, you may have to consult some specialists in the industry. Often, the retailer you choose will provide you with all the information you need in order to choose the best lock cable for your particular model of laptop. It is in their interest after all to sell you a good product! The best thing to do here is to take your laptop with you when shopping for a lock and cable, and to get advice on where and how to anchor it securely.
Experts also recommend that you secure your laptop in its bag while you are travelling, or when you are out and about. Anchoring your laptop to its bag will prevent thieves from pickpocketing your laptop the moment you are not looking.
If you are looking for a secure laptop lock cable, give our team at Legion Computer Accessories a call! We have a wide range of bags and locks that will help to keep your laptop safe at all times.