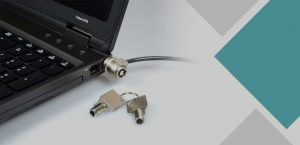 Nowadays, everyone that has a laptop or a tablet use them on the move. You can see them everywhere – on trains, in restaurants, coffee shops, and in malls. Because technology has advanced to provide us with lightweight computers, we can carry them everywhere we go. This is convenient, but it also brings with it the risk of them being stolen or damaged. The hardware, and especially the information stored on the computer or tablet, may be worth a lot of money. This is why laptop security is so important to ensure that nobody steals your computer, tablet, or information.
Legion Computer Accessories specialises in the provision of a variety of accessories for your computer, and this includes laptop security for just about any make and model. We sell a wide range of Kensington locks that will help you to keep your hardware safe. We believe in Kensington locks, because they have been in the business for a long time and have built a solid reputation. Thousands of people and companies worldwide entrust their laptop security to Kensington locks, which is why we stock and sell them.
In order for your laptop security to work properly, you have to connect your laptop or tablet to a little port that can be found on just about any piece of technological hardware. The port acts as an anchor, and it is connected to a strong steel cable that is locked onto a solid object such as a desk or wall mount. The lock can be connected and disconnected as needed through a key system or even a combination lock. In the more modern computers, the lock port is built in a way that also safeguards other components of the computer, such as the battery or the memory card. This means that nobody will have access to your information and will not be able to remove these components.
Of course, it cannot be said that all laptop security is infallible – with enough time and the right tools, it is possible to cut the cable or to remove it from the lock, but because laptop theft is mostly opportunistic, laptop security locks certainly minimise the risk theft, because it is a visual deterrent. Nobody is going to hang around a coffee shop while trying to saw through a cable; on the other hand, though, without a visible lock, it only takes a moment for someone to swipe your laptop when you are not looking!
Invest in laptop security with our locks at Legion Computer Accessories today and ensure that your hardware and software remains safe.